Welcome to
Cathedral Investment Bank Global Human Resource Center
Our professionals are high performers with great judgement who combine; business vision, technical and technological expertise, service attitude, negotiation skills, leadership profile, autonomy and moral responsibility, to manage their own learning and performance.
Therefore, Cathedral Investment Bank links business vision with professional excellence, which results in proffesional, dynamic, responsible, and creative human capital with a common goal, to contribute to the success of our customers through service excellence.
Cathedral Investment Bank has created a value added culture which encourages growth and promotes employee recognition. Thus, making the decision to join any of our teams represents a key factor in your professional career.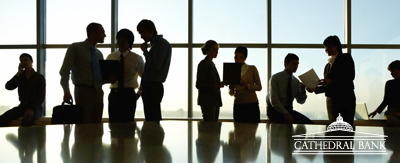 Cathedral Investment Bank offers a wide range of alternatives and activities to develop and improve your aptitudes and skills, also to update your knowledge for comprehensive professional benefit.
Our local training programs comprise of:
– General Professional and Technical Training
– Training of foreign languages (Saturdays)
– Mid and Advanced Training in Finance
– Customer Training and Executive Services
Intra-developing, our human capital development program, provides the opportunity to acquire specific skills and knowledge needed to achieve your career goals within the company.
– Permanent Technological upgrade
– Opportunity to work with other companies that are part of the group
The growth and professional experience offered by Cathedral Investment Bank is backed by the variety and complexity of its projects, as well as by our extensive portfolio of domestic and international customers.
Cathedral Investment Bank / CIB Americas Bank Inc Is regulated by the Financial Service Unit of the Ministry of Finance on the Commonwealth of Dominica
The information contained on this website should not be interpreted as an offer of products and / or financial services (soliciting). The figures and displayed information in this document is only for informational purposes, Cathedral Investment Bank performs a major effort to keep the data here expressed correctly, updated and faithful, and however these may contain errors in its calculation, sampling and result. For more information read the terms and website conditions.
* Cathedral Investment Bank has physical and commercial presence in different jurisdictions, its ability to deliver services in your area may be restricted depending in its local licensing cathedral may be locally registered as a Financial Intermediary, Foreign Financial Services Company or equivalent, Fund or capital Administrator, Investment Advisor, Limited Partnership, Registered Trade Mark, Service Provider, financial consultant, Insurance Broker or any related figure.
**Cathedral Investment Bank has a very strict Anti-Money Laundering process managed by an independent internal organ and by a third party external consultant that evaluates and analyzes all prospective operations within the institution, for more information please consult us at 
mlpp@cathedralbank.com
***Cathedral Investment Bank reserves the right to deny delivering services to any parties related with illegal activities, criminal activities or any related with ideological and radical behavior or related.