Our Human Resources Processing Center manages more than 500 applicants on a daily basis. Therefore, please follow the recommendations listed below to streamline the selection and hiring process:
1. On the email subject line, please include the job opening you would like to apply for. Also, in your email, please include your salary requirements and the name of the website where the vacancy was published.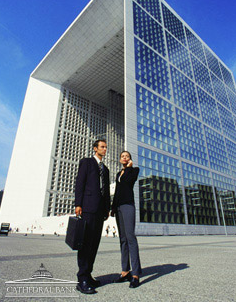 2. Those candidates who do not meet the specific requirements listed on the vacancy they are applying for, will not be taken into consideration by our Human Resources department. 3. If the vacancy you are applying is not published, email your resume to us; please include the areas of interest at Cathedral Investment Bank. 4. Remember that your resume should include all your personal data; name, address, nationality, telephone number, etc. in order to be considered. 5. All information you provide will be validated; in other words, it will be verified by a Human Resources Specialist in your region.
Please see our Selection Process to better understand how we handle your resume once it has been submitted.
Thanks and good luck!
Cathedral Investment Bank / CIB Americas Bank Inc Is regulated by the Financial Service Unit of the Ministry of Finance on the Commonwealth of Dominica
The information contained on this website should not be interpreted as an offer of products and / or financial services (soliciting). The figures and displayed information in this document is only for informational purposes, Cathedral Investment Bank performs a major effort to keep the data here expressed correctly, updated and faithful, and however these may contain errors in its calculation, sampling and result. For more information read the terms and website conditions.
* Cathedral Investment Bank has physical and commercial presence in different jurisdictions, its ability to deliver services in your area may be restricted depending in its local licensing cathedral may be locally registered as a Financial Intermediary, Foreign Financial Services Company or equivalent, Fund or capital Administrator, Investment Advisor, Limited Partnership, Registered Trade Mark, Service Provider, financial consultant, Insurance Broker or any related figure.
**Cathedral Investment Bank has a very strict Anti-Money Laundering process managed by an independent internal organ and by a third party external consultant that evaluates and analyzes all prospective operations within the institution, for more information please consult us at 
mlpp@cathedralbank.com
***Cathedral Investment Bank reserves the right to deny delivering services to any parties related with illegal activities, criminal activities or any related with ideological and radical behavior or related.