The selection process for potential candidates at Cathedral Investment Bank is carried out globally in the jurisdictions where the institution has physical presence.
Whether global management centers, regional management centers, or Global HQ (Headquarters), Cathedral Investment Bank is always looking for candidates with higher education and the necessary experience to meet our customer needs.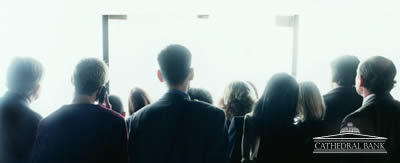 Once the department that has the vacancy has defined the job requirements for the position, human resources is given the task to perform a local search and produce a newsletter with the requirements and cost centers assigned to it.
In many cases, Cathedral Investment Bank publishes vacancies through local media in order to recruit candidates. At other times, we approach candidates from our global database to start the selection process.
After publishing the vacancy, human resources receives resumes from applicants in the language required by region profile. All vacancies have a specific open period, once that period ends, the department will no longer accept application for that position. Once vacancy open period has ended, the recruitment team carefully reviews all applications based on the required profile; then generates a pool of potential candidates to be interviewed. This list is then transferred to an executive recruiter who personally schedules an appointment with an HR specialist and a representative of the specific department. During the process, we conduct a series of evaluations and tests in order to integrate an application profile for each candidate. Once we obtain the results, they will be evaluated by the Human Resource Board which then generates a list of finalists who will undergo additional tests specific to the requirement. From the finalists, we select the winning candidate for the position. That person will receive written notification from the office that had the vacancy. If you have any questions about the selection process, please email our Human Resource departmenet at: rhumanos-int@cathedralbank.com; we will gladly assist. Human Resources Department Cathedral Investment Bank
Cathedral Investment Bank / CIB Americas Bank Inc Is regulated by the Financial Service Unit of the Ministry of Finance on the Commonwealth of Dominica
The information contained on this website should not be interpreted as an offer of products and / or financial services (soliciting). The figures and displayed information in this document is only for informational purposes, Cathedral Investment Bank performs a major effort to keep the data here expressed correctly, updated and faithful, and however these may contain errors in its calculation, sampling and result. For more information read the terms and website conditions.
* Cathedral Investment Bank has physical and commercial presence in different jurisdictions, its ability to deliver services in your area may be restricted depending in its local licensing cathedral may be locally registered as a Financial Intermediary, Foreign Financial Services Company or equivalent, Fund or capital Administrator, Investment Advisor, Limited Partnership, Registered Trade Mark, Service Provider, financial consultant, Insurance Broker or any related figure.
**Cathedral Investment Bank has a very strict Anti-Money Laundering process managed by an independent internal organ and by a third party external consultant that evaluates and analyzes all prospective operations within the institution, for more information please consult us at 
mlpp@cathedralbank.com
***Cathedral Investment Bank reserves the right to deny delivering services to any parties related with illegal activities, criminal activities or any related with ideological and radical behavior or related.