You can operate thousands of financial products through our multi-product platforms: Currencies, Forwards, futures, etc.
Currency trading is done online using a software called operating CIBDer Trader. This is one of the most internationally recognized platforms for derivative transactions.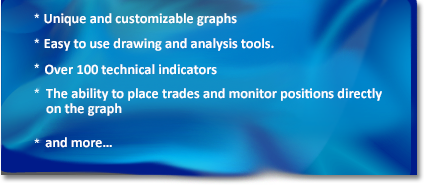 Trader CIBDer also incorporates one of the most powerful technical-mathematical analysis tools on market.
There are almost 120 indicators and financial-mathematical theories that, until recently, had to be mannually calculated in order to determine pricing trends. With CIBDer Trader, all information is automatically processed by using a combination of advanced mathematical algorithms.
The operator need not re-use manual calculation tools to determine the market trend or the overview of each theory. The results of the mathematical calculations are also presented in the same graph and may be edited according to the "timeframe" in which they are analyzed.
CIBDer puts customers first. We offer competitive terms of operations, comprehensive service, and quality STP operations.
Open your account now, the process is easy and simple! Email us at: cibder.accounts@cathedralbank.com
Cathedral Investment Bank / CIB Americas Bank Inc Is regulated by the Financial Service Unit of the Ministry of Finance on the Commonwealth of Dominica
The information contained on this website should not be interpreted as an offer of products and / or financial services (soliciting). The figures and displayed information in this document is only for informational purposes, Cathedral Investment Bank performs a major effort to keep the data here expressed correctly, updated and faithful, and however these may contain errors in its calculation, sampling and result. For more information read the terms and website conditions.
* Cathedral Investment Bank has physical and commercial presence in different jurisdictions, its ability to deliver services in your area may be restricted depending in its local licensing cathedral may be locally registered as a Financial Intermediary, Foreign Financial Services Company or equivalent, Fund or capital Administrator, Investment Advisor, Limited Partnership, Registered Trade Mark, Service Provider, financial consultant, Insurance Broker or any related figure.
**Cathedral Investment Bank has a very strict Anti-Money Laundering process managed by an independent internal organ and by a third party external consultant that evaluates and analyzes all prospective operations within the institution, for more information please consult us at 
mlpp@cathedralbank.com
***Cathedral Investment Bank reserves the right to deny delivering services to any parties related with illegal activities, criminal activities or any related with ideological and radical behavior or related.