Cathedral Investment Bank, one of the largest offshore investment banking solutions providers worldwide, is a global financial group with physical presence in 7 countries, serving nearly 10,000 customers in 35 nations worldwide.
Cathedral Investment Bank is an investment banking entity registered in various offshore jurisdictions, under different legal forms. It offers financial related services for global projects (equity, mezzanine, venture capital related with investment banking), consulting services, management and SPV creation for IB, mergers and acquisitions, venture investment programs and delivery of financial consulting services to both parts involved.
Because of the way its set up, Cathedral Investment Bank can deliver services in different jurisdictions for different markets; easing liquidity requirements, risk management for the equity partners and client confidentiality.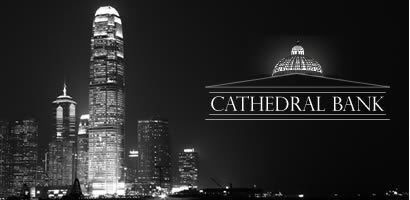 Registered in various jurisdictions under different financial forms, Cathedral Investment Bank has higher administrative and fiscal flexibility. But it is imperative for clients to review in which jurisdictions Cathedral Investment Bank can actually deliver services to customers, cathedral will deliver services in your country according to local regulations applicable.
Cathedral Investment Bank structures and integrates financial projects linking them to various investment funds interested in Equity and Mezzanine processes, which invest directly on the projects. This will allow for greater tax planning and fiscal flexibility in the jurisdiction that affects the client while protecting information confidentiality at all times.
Cathedral Investment Bank is directed, managed, and organized by some of the most talented economists worldwide. Cathedral belongs to Cathedral Investment Group. This International holding company owns and operates independent investment advisors, global financial services advisors, and financial professionals delivering services. Therefore, clients can expect a higher level of service than that offered by traditional banking and financial service provided in their onshore jurisdictions.
Allow us to serve you as only you deserve. Please contact us through our World Contact Center; we will be glad to assist you.
* Cathedral Investment Bank is authorized to use the denomination of Bank only in its central jurisdictions. In most countries where Cathedral Investment Bank has physical or commercial presence; the registry application form varies according to regulations and legislation of each jurisdiction. Cathedral Investment Bank could be registered in your jurisdiction but not limited to: Financial Intermediary, Foreign Financial Intermediary, Securities Portfolio Manager, Investment Advisor, Limited Liability Corporation, Local Trademark, International Trademark, Services Provider, or Financial Consultant.
If you have any concerns regarding the figure adopted by Cathedral Investment in your country, please e-mail: local-compliance@cathedralbank.com
** Cathedral Investment Bank has a strict Anti-Money Laundering process. The Money-Laundering Prevention Program (MLPP) is integrated by an Internal Autonomous Organ and an external risks prevention consultant that oversees all operations and movements. To request more information on money laundering preventing program support email: mlpp@Cathedralbank.com
*** Cathedral Investment Bank reserves its rights on limiting the opening of accounts or offering services to those who practice criminal or irregular activities; or those linked to illegal, radical or ideologist activities.
Cathedral Investment Bank / CIB Americas Bank Inc Is regulated by the Financial Service Unit of the Ministry of Finance on the Commonwealth of Dominica
The information contained on this website should not be interpreted as an offer of products and / or financial services (soliciting). The figures and displayed information in this document is only for informational purposes, Cathedral Investment Bank performs a major effort to keep the data here expressed correctly, updated and faithful, and however these may contain errors in its calculation, sampling and result. For more information read the terms and website conditions.
* Cathedral Investment Bank has physical and commercial presence in different jurisdictions, its ability to deliver services in your area may be restricted depending in its local licensing cathedral may be locally registered as a Financial Intermediary, Foreign Financial Services Company or equivalent, Fund or capital Administrator, Investment Advisor, Limited Partnership, Registered Trade Mark, Service Provider, financial consultant, Insurance Broker or any related figure.
**Cathedral Investment Bank has a very strict Anti-Money Laundering process managed by an independent internal organ and by a third party external consultant that evaluates and analyzes all prospective operations within the institution, for more information please consult us at 
mlpp@cathedralbank.com
***Cathedral Investment Bank reserves the right to deny delivering services to any parties related with illegal activities, criminal activities or any related with ideological and radical behavior or related.