Cathedral Investment Bank operates high volume financing services (NRVC, Volume Non Retail Financing) which can take place anywhere around the world.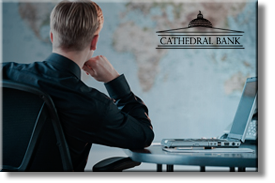 In order to be considered for evaluation, the projects to be financed must have a capitalization requirement greater than $ 50,000,000.00 USD.
Cathedral Investment Banking services are geared toward efficiently implementing financial resources in production and service projects around the world. This is accomplished through various entities and regional monitoring centers; each subject to specific regulations within their jurisdiction, providing geographic flexibility for customers of the Investment Banking unit.
This flexibility enables Cathedral Investment Bank to provide comprehensive financial processes, including: global financial evaluation, corrective consulting services, and capital injection for high-volume financing projects, regardless of geographic location. Cathedral Investment Bank's finance specialists are the best in their field and offer personalized treatment, as well as the highest quality of evaluating service. Our service quality backed up by the professionalism and knowledge of our experts, who will provide personal advice to achieve your funding application project.
We offer personalized services through our evaluation system, "customer by costumer", which allows us to implement flow and liquidity requirements, specific to your needs.
To request Cathedral Investment Bank funding, the project must meet the following criteria:
To review the evaluation process, visit: Process Request a Showing
Cathedral Investment Bank / CIB Americas Bank Inc Is regulated by the Financial Service Unit of the Ministry of Finance on the Commonwealth of Dominica
The information contained on this website should not be interpreted as an offer of products and / or financial services (soliciting). The figures and displayed information in this document is only for informational purposes, Cathedral Investment Bank performs a major effort to keep the data here expressed correctly, updated and faithful, and however these may contain errors in its calculation, sampling and result. For more information read the terms and website conditions.
* Cathedral Investment Bank has physical and commercial presence in different jurisdictions, its ability to deliver services in your area may be restricted depending in its local licensing cathedral may be locally registered as a Financial Intermediary, Foreign Financial Services Company or equivalent, Fund or capital Administrator, Investment Advisor, Limited Partnership, Registered Trade Mark, Service Provider, financial consultant, Insurance Broker or any related figure.
**Cathedral Investment Bank has a very strict Anti-Money Laundering process managed by an independent internal organ and by a third party external consultant that evaluates and analyzes all prospective operations within the institution, for more information please consult us at 
mlpp@cathedralbank.com
***Cathedral Investment Bank reserves the right to deny delivering services to any parties related with illegal activities, criminal activities or any related with ideological and radical behavior or related.