Cathedral Investment Bank operates high volume financing services (NRVC, Volume Non Retail Financing) which can take place anywhere around the world.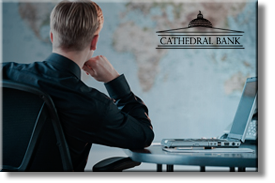 In order to be considered for evaluation, the projects to be financed must have a capitalization requirement greater than $ 50,000,000.00 USD.
Cathedral Investment Banking services are geared toward efficiently implementing financial resources in production and service projects around the world. This is accomplished through various entities and regional monitoring centers; each subject to specific regulations within their jurisdiction, providing geographic flexibility for customers of the Investment Banking unit.
This flexibility enables Cathedral Investment Bank to provide comprehensive financial processes, including: global financial evaluation, corrective consulting services, and capital injection for high-volume financing projects, regardless of geographic location. Cathedral Investment Bank's finance specialists are the best in their field and offer personalized treatment, as well as the highest quality of evaluating service. Our service quality backed up by the professionalism and knowledge of our experts, who will provide personal advice to achieve your funding application project.
We offer personalized services through our evaluation system, "customer by costumer", which allows us to implement flow and liquidity requirements, specific to your needs.
To request Cathedral Investment Bank funding, the project must meet the following criteria:
To review the evaluation process, visit: Process Request a Showing