Dear Customer, this guide is designed to assist you in completing the form to open investment funds accounts, debit cards and services, as well as offshore accounts. Should you have any questions, please contact us through the global services contact at www.cathedralbank.com
Remember, at Cathedral Investment Bank, it is a pleasure to serve you: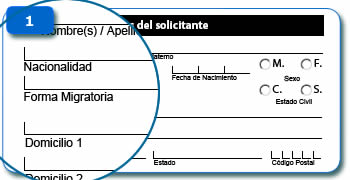 In this section please enter the holder's general data for the new account or found you wish to open.
Marital status: Select single or married, if you are divorced or legally separated, you must select single.
If you have several nationalities, please enter what you consider to be your primary nationality.
If you have a different immigration status from that of your current place of residence; for example, if an expatriate, or temporary work permit, please note it here.
Address field: remember to enter your complete address as some Cathedral Investment Bank communications may be sent by post to this address.

2. Enter your phone number starting with the international country code, then your hometown long distance code, and finally the telephone number, separated with spaces to make it easy to read.
3. Enter an email account to be used as primary means of contact.
4. Enter the initial amount of investment and the currency denomination of the transfer, regardless of the currency denomination of where you wish to invest. That is if you transfer $10,000 USD but want to invest in Japanese Yen; please enter the amount in US Dollars. This will allow us to trace the first deposit and generate an electronic link between the accounts from which you are transfering to your investment account at Cathedral.
5. This section is very important as all withdrawals will be deposited to the account you note on this section. Please remember to check each digit on your back account number.
5.1 Enter the full name of your bank.

5.2 Enter the account number. If any additional numbers, please enter them here. For example, some banks also include the account number, branch number, and location number, if that is the case, please clearly note those in this area.
5.3 Enter the bank's routing number. This is different according to each country, this code is used to transfer money to other banks within their country, and this usually consists of a long series of numbers.
5.4 Enter the SWIFT code or ABA; in this case, you should ask your bank what is the SWIFT code for your account. This allows Cathedral to send money internationally to your investment account.
5.5 Enter the address of your bank's branch or office that services you.
6 This section must be completed only if you want another person to share the ownership of your account; meaning both will have the same rights in the account, and either can perform balance inquiries, withdrawals, and review account activity. When you share ownership of an account, either can make any transaction without consulting with each other.
7 The beneficiaries are those who can claim the capital of this account in the ratio that you assigned. Please include the full name of each beneficiary, their relationship to you, and the percentage of the account you want them to receive.
If you were to pass away, the beneficiaries will have to contact Cathedral Investment Bank and request settlement of this account in the proportion you designated on this section. To claim resources, they must present a death certificate or its equivalent in the country of residence of the holder; there will be a waiting period in order for Cathedral Investment Bank to confirm that indeed, the holder is no longer alive.
For those accounts that have two owners, if one owner dies, the second holder will immediately become the sole owner; beneficiaries may be changed at this point, if desired.
8. Once the form has been completed, please print out a copy and handwrite your name and signature.
9. If the account will have two owners, the second holder must write their name and sign here as well.
10. Select the type of account being opened.
11 This area is for exclusive use of Cathedral Investment Bank, please leave it blank.
Remember to print the form on white paper (not recycled), scan it, and email it to: newaccountsreg@cathedralbank.com or to the email address of your account manager.
Cathedral Investment Bank / CIB Americas Bank Inc Is regulated by the Financial Service Unit of the Ministry of Finance on the Commonwealth of Dominica
The information contained on this website should not be interpreted as an offer of products and / or financial services (soliciting). The figures and displayed information in this document is only for informational purposes, Cathedral Investment Bank performs a major effort to keep the data here expressed correctly, updated and faithful, and however these may contain errors in its calculation, sampling and result. For more information read the terms and website conditions.
* Cathedral Investment Bank has physical and commercial presence in different jurisdictions, its ability to deliver services in your area may be restricted depending in its local licensing cathedral may be locally registered as a Financial Intermediary, Foreign Financial Services Company or equivalent, Fund or capital Administrator, Investment Advisor, Limited Partnership, Registered Trade Mark, Service Provider, financial consultant, Insurance Broker or any related figure.
**Cathedral Investment Bank has a very strict Anti-Money Laundering process managed by an independent internal organ and by a third party external consultant that evaluates and analyzes all prospective operations within the institution, for more information please consult us at 
mlpp@cathedralbank.com
***Cathedral Investment Bank reserves the right to deny delivering services to any parties related with illegal activities, criminal activities or any related with ideological and radical behavior or related.