Primoris Argentum International Card provides a great deal of unique services with superior capitalization volumes than any Credit Card anywhere in the world.
Manage your expenses from anywhere in the world, without limitations, with the best market rates.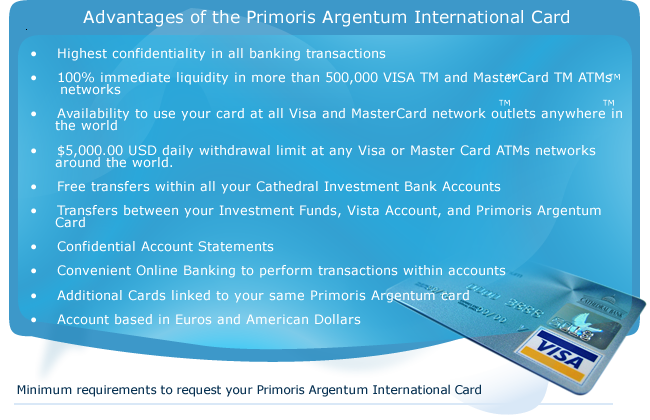 • To have an active Investment account in Cathedral Investment Bank with a monthly average balance over $ 100,000.00 USD or its equivalent in foreign currency and at least 12 months old.
• To have a favorable credit history in your country of residence.
• To be over 22 years old
• To have superior flows minimum of $ 10,000.00 USD per month in a current credit facility in your country of residence.
Once the application has been approved, you will be able to request the Primoris Argentum Gold Card associated with your offshore account (Debit). This card enables you to request additional Primoris Argentum credit cards for your immediate family, (Subject to individual approval).
Request your Primoris Argentum Gold Card now (Download application request in PDF).
Fees and Commissions
• Opening Account fee of $350.00 USD
• Additional cards fee $250.00 USD
• Annual fee $250.00 USD
• Additional Card Annual fee $150.00 USD
• Fee per withdrawal $5.00 USD
• Free Balance-inquiring
• Free Banking transfers.
• Free on-line banking services
• No fee for purchasing at establishments
• No monthly fee
Requirements to open Vista Accounts
• Valid Passport and a valid ID that includes your current residence (driver's license, Identity Credential) • Proof of current address (voucher of some primary service of the clients' address as telephone, light bill) • Signed Contract Agreement • Completed Anti – Money Laundering form
According to initial information received from Cathedral Investment Bank, the New Accounts Center may request the information to be notarized and / or apostil according to each case. It may also request additional information on customer accounts, origin of the resources, and references by third parties. * Cathedral Investment Bank has a strict Anti-Money Laundering process. The Money-Laundering Prevention Program (MLPP) is integrated by an Internal Autonomous Organ and an external risks prevention consultant that oversees all operations and movements. To request more information on money laundering preventing program support email:
mlpp@Cathedralbank.com
** Cathedral Investment Bank reserves its rights on limiting the opening of accounts or offering services to those who practice criminal or irregular activities; or those linked to illegal, radical or ideologist activities.
Cathedral Investment Bank / CIB Americas Bank Inc Is regulated by the Financial Service Unit of the Ministry of Finance on the Commonwealth of Dominica
The information contained on this website should not be interpreted as an offer of products and / or financial services (soliciting). The figures and displayed information in this document is only for informational purposes, Cathedral Investment Bank performs a major effort to keep the data here expressed correctly, updated and faithful, and however these may contain errors in its calculation, sampling and result. For more information read the terms and website conditions.
* Cathedral Investment Bank has physical and commercial presence in different jurisdictions, its ability to deliver services in your area may be restricted depending in its local licensing cathedral may be locally registered as a Financial Intermediary, Foreign Financial Services Company or equivalent, Fund or capital Administrator, Investment Advisor, Limited Partnership, Registered Trade Mark, Service Provider, financial consultant, Insurance Broker or any related figure.
**Cathedral Investment Bank has a very strict Anti-Money Laundering process managed by an independent internal organ and by a third party external consultant that evaluates and analyzes all prospective operations within the institution, for more information please consult us at 
mlpp@cathedralbank.com
***Cathedral Investment Bank reserves the right to deny delivering services to any parties related with illegal activities, criminal activities or any related with ideological and radical behavior or related.